..............
Ha mort Mo Mowlam

...................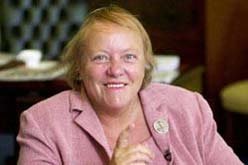 Mo Mowlam, una lluitadora d'esquerres, que va propiciar l'acord polític per la pau al nord d'Irlanda quan era Ministre i a més defensava la cultura de la pau i el diàleg, essent molt crítica sobre l'actual guerra de l'Iraq i del propi Tony Blair, ha mort.
Aquest dijous ja comentava el seu estat crític de salut, que feia preveure l'actual desenllaç.
Descansi en pau. Una altra política decent, morta!.

Que un poema de Sylvia Plath, en sigui el meu homenatge:
..........

MÍSTIC

L'aire és un molí d'hams.
Preguntes sense resposta,
lluents i embriacs com mosques
que petonegen amb fiblada insofrible
dins fètids úters d'aire negre sota els pins a l'estiu.

Recordo
l'olor morta del sol sobre cabanes de fusta,
la rigidesa de veles, els llargs llençols de sal ondulants.
Un cop s'ha vist Déu, quin remei hi ha?
Un cop t'han inutilitzat

fins que no en queda res,
ni un dit del peu, ni de la mà, i consumida,
consumida del tot, en les conflagracions del sol, en les taques
que s'allarguen des d'antigues catedrals,
quin remei hi ha?

¿La píndola de l'hòstia de combregar,
el caminar prop de l'aigua quieta? La memòria?
O recollir els trossets vius
de Crist en els rostres dels rosegadors,
els mansuets mossegaires de flors, aquells

amb anhels tan baixos que són còmodes:
la geperuda en la seva petita cabana polida
sota els peduncles de les clemàtides.
No hi ha cap gran amor, sols tendresa?
¿És que el mar

recorda el qui hi camina per damunt?
El significat degota de les molècules.
Les xemeneies de la ciutat respiren, sua la finestra,
els infants salten dins el bressol.
El sol floreix, és un gerani.

El cor no s'ha parat.


Poema de Sylvia PLATH, "Arbres d'hivern"
Traducció de Montserrat Abelló
--------------------------
..........
MYSTIC


The air is a mill of hooks.
Questions without answer,
Glittering and drunk as flies
Whose kiss stings unbearably
In the fetid wombs of black air under pines in summer.

I remember
The dead smell of sun on wood cabins,
The stiffness of sails, the long salt winding sheets.
Once one has seen God, what is the remedy?
Once one has been seized up

Without a part left over,
Not a toe, not a finger, and used,
Used utterly, in the sun's conflagration, the stains
That lengthen from ancient cathedrals
What is the remedy?

The pill of the Communion tablet,
The walking beside still water? Memory?
Or picking up the bright pieces
Of Christ in the faces of rodents,
The tame flower-nibblers, the ones

Whose hopes are so low they are comfortable:
The humpback in his small, washed cottage
Under the spokes of the clematis.
Is there no great love, only tenderness?
Does the sea

Remember the walker upon it?
Meaning leaks from the molecules.
The chimneys of the city breathe, the window sweats,
The children leap in their cots.
The sun blooms, it is a geranium.

The heart has not stopped.

Sylvia PLATH
"Winter Trees", 1972.
...